David Bowers | TA SERVICES
ORIGINALLY ESTABLISHED
IN the 1930s, lean manufacturing principles have been around a while. Many businesses continuously improve and innovate as business practices evolve, and lean manufacturing can help manufacturers reduce lead times and waste while improving quality. Manufacturers who implement the five key principles associated with lean manufacturing have a competitive edge, with increased productivity, reduced costs and continuous improvement. However, intelligent businesses should make sure their professional partners value, innovate, and embrace the techniques of lean manufacturing as well.
The Intersection of Third-Party Logistics & Lean Manufacturing
Manufacturers of all industries can increase business efficiencies by partnering with a third-party logistics (3PL) provider who values the five principles associated with lean manufacturing. 3PLs manage all aspects of the supply chain, including freight brokerage, warehousing, managed transportation and cross-border logistics. A qualified 3PL can utilize lean manufacturing techniques to reduce wasteful processes and help customers boost their bottom line.
An efficient logistics team can improve customer fill rates, improve inventory accuracy, and reduce misplaced goods by implementing lean practices in the warehouse. Here's how:
1. Define value: In business, it is essential to ask, "What does my customer need?" For many 3PLs and their customers, it can be the task of managing inventory and getting it to the right place at the right time. This can be achieved through implementing a warehouse management system (WMS) or providing guidance navigating the complexities of cross-border logistics. Discovering customer needs is the first step in adding value.
2. Map the value stream: What is the process of getting your product from A to B? Map out the steps from sending that initial email to shipping out the product and determine the time investment in each step. Are there some team members duplicating processes? Identify which steps add value and where there are inefficiencies to be improved. If your facility sees consistent product quality issues due to improper storage or handling, then correct this issue.
As in manufacturing, mapping out the process and identifying where value is added and waste occurs allows for a heightened focus on improving that value stream and reducing wasted time and resources. Overall, it can help you better understand how your business works, how your team works with each other, and where you can make improvements, like partnering with a 3PL, to amplify successes.
3PLs can help simplify that value stream—which brings us to the next principle.
3. Implement process controls: This is a critical step when determining the right 3PL to partner with for your company. Once you have streamlined your workflow, there will be some learning curves within the team to ensure all steps can be carried out without delay or inefficiencies. For example, a streamlined warehouse that has minimized product handling may still require an inspection. With a newly mapped value stream and flow, the inspection team will know to forecast the arrival of the materials so they can be present near the receiving dock and perform the inspection prior to the material being stored. This reduces wasted time, resources, and even product due to mishandling or accidents. Having access to a WMS like this through a 3PL, to manage the process and inventory, is invaluable.
4. Embrace speed: Traditional lean manufacturing principles suggest a system with limited inventory to reduce overproduction and allow for "just in time" delivery. 3PLs play a key role in allowing for fast production and distribution. This is the main reason there are so many regional distribution centers allowing for lower amounts of inventory and quicker response times to customer needs.
5. Seek perfection: The purpose of implementing these five lean principles is continuous improvement, so once you establish the first four it's essential to revisit the process continuously to identify less obvious inefficiencies. Start by looking into the processes that take the most time. Are there ways to shorten that link in the supply chain? When you continuously seek perfection, and partner with companies who do the same, over time you will cut costs, increase efficiency and boost profit.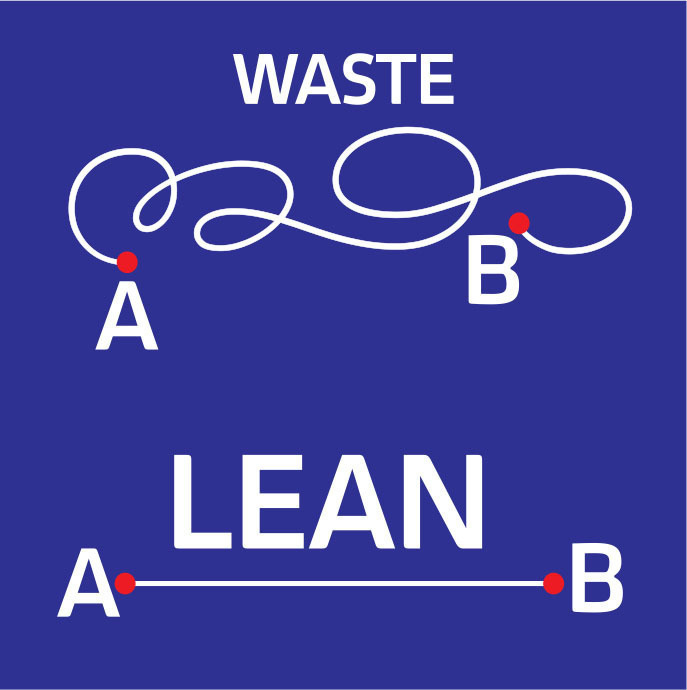 The Five Lean Benefits to 3PLs
At the core, 3PLs are ideally suited to add value and reduce waste at every turn. 3PLs are versatile and, while most can cover all areas of the logistics process, you may only need them for a single part of the supply chain. Ultimately, 3PLs are here to solve everything from day-to-day issues to big picture problems, and they do this by:
1. Amplifying strengths: It is always in a successful company's best interest to focus on its strengths. You may be the industry leader in creating your food and beverage product, but accurately managing and handling that inventory may not be where you out-perform the competition. You might find you are spending too much time coordinating with drivers, warehouses, and complicated cross-border regulations and not enough time getting your valuable work done. Letting logistics experts do that for you will give you time to improve your product and grow your company, save time (and money) and keep your customers happy.
2. Managing space: Warehousing and fulfillment support comes in many forms to create efficiencies and ensure accurate distribution—from quality screening to order fulfillment to pick-and-pack, and more. But another area often overlooked, and undervalued, is space utilization. Manufacturing spaces typically come with lower ceilings and high-power usage, while warehousing spaces have the opposite. Storing material in a manufacturing environment means you fit less material per square foot, which also means a higher price per square foot. A larger storage area is inevitable for a growing company with an expanding equipment footprint but managing that growth can be difficult especially with uncertain markets and tight budgets. However, outsourcing that space can be very cost-effective. 3PLs often have multiple warehouses of varying sizes and locations, giving them the ability to provide the right space, in the right city, at the right time.
3. Looking at the big picture: Managed transportation, something 3PLs help with, is more than just a transactional "A to B" process; it's a deeper partnership to identify and solve big picture problems that affect your end-to-end supply chain. That might mean reallocating internal resources, integrating technologies, and learning from experts who can provide guidance on capital and value adds.
4. Expanding the possibilities: Working with a 3PL gives your company access to an expanded footprint of national and international distribution methods—from temperature controlled to heavy haul equipment to dry van and others. A multi-modal network offers you access to the right equipment that you may not have access to on your own.
5. Flexing cross-border expertise: Navigating cross-border regulations can be time consuming and often present unforeseen risks when it comes to distributing from the U.S. to bordering countries like Canada or Mexico. Security concerns, cross-border insurance, delays at the border, and other common issues can make international logistics slow moving and costly. 3PLs work in international supply chain management every day and are updated on regulatory changes and familiar with any fine print rules or extra costs that you might miss.
The Union of Working Together
If lean manufacturing is on your radar, you are heading down the right path. The right 3PL partner can help you achieve those five principles and ultimately eliminate waste, cut costs, and create efficiencies across the supply chain. A great 3PL partner is destined to lead your team to success through:
Exemplary customer service: A positive customer experience for manufacturers means that any problem with operations can be easily communicated and corrected by the 3PL company.
Flexibility for new ideas and concepts: The world is rapidly changing and switching between 3PL providers can be costly and stressful. Find a 3PL provider that constantly strives to improve their operations and does not dismiss new ideas that could be more efficient than old practices.
Historical knowledge: To ensure success, an experienced 3PL will know the best problem-solving techniques that have been utilized for other manufacturers.
David Bowers has 25 years of experience in the supply chain and logistics industry. Bowers started his career in manufacturing as a production engineer for companies such as Toyota Industrial Equipment Manufacturing and KYB Manufacturing NA, Inc. His knowledge of supply chain management, Kaizen, lean manufacturing, and 5S methodology paved the way for a natural transition into warehousing and distribution. Since joining TA Services in 2008 as an industrial engineer, Bower's role has gradually expanded within the warehousing branch of the company. He currently serves as the vice president of warehouse operations, overseeing all of TA Services' warehouse and distribution operations.
Image credits: ISTOCK.COM/OLIVIER LE MOAL; BLUE VIKING/SHUTTERSTOCK.COM