Glenn Patton | ROANOKE GROUP
PHISHING IS AMONG the top cyberthreats today, joining ransomware and data leaks and breaches in disrupting the logistics and transportation sector along with other industries. Phishing attacks are increasingly impacting all types of businesses—from the world's largest corporations to small business ventures—as cybercriminals become more sophisticated in designing and delivering their bait. In addition, hackers have taken advantage of the increase in remote work, exploiting operational changes resulting from COVID-19 and compromised security networks and checks.
Phishing is a form of social engineering that relies on deception to steal confidential information from users and organizations. Phishers use email, social media, and phone calls—really any form of communication—to steal valuable data. They typically masquerade as a trustworthy entity (such as a financial institution, client/vendor, well-known brand, or government agency), and because the request appears to be coming from a trusted source, phishing victims respond without thinking twice about disclosing critical information (such as account numbers and passwords). Phishers use this information to manipulate data, access accounts, take over networks or perpetrate fund transfer fraud (FTF). Criminals will send spoofed emails and doctored invoices that seem legitimate to convince a victim to wire funds.
Hook, Line & Sinker: Typical Phishing Tactics
According to the Department of Homeland Security, "Phishing messages often contain an element of urgency and, thus, time pressure. The tone of these messages frequently involves a combination of persuasive and polite statements to influence decision making."
Phishers employ various techniques1 to get the information they want:
Embedding a link in an email that redirects an employee to an unsecure website that requests sensitive information
Installing a malicious email attachment or ad that enables the intruder to exploit loopholes and obtain sensitive information
Spoofing the sender address in an email to appear as a reputable source and request sensitive information, including a request for payment
Impersonating the CEO or CFO through a compromised email account so that the phisher can authorize wire transfers to third-party accounts or file fake tax returns on behalf of employees
Attempting to obtain company information over the phone by impersonating a known company vendor or IT department
The Risk of Phishing to Businesses
Phishing poses a monetary risk to businesses by duping individuals to make payments to a fraudster posing as a legitimate vendor. Phishing attacks are also used in ransomware to hold a network hostage until payment is made, typically in the form of cryptocurrency.
CRIMINALS WILL SEND SPOOFED EMAILS AND DOCTORED INVOICES THAT SEEM LEGITIMATE TO CONVINCE A VICTIM TO WIRE FUNDS.
A business' reputation is also at risk in the wake of a phishing incident. When a business falls victim to a phishing attack, the confidence in its ability to secure the financial and private information of their customers and vendors comes into question.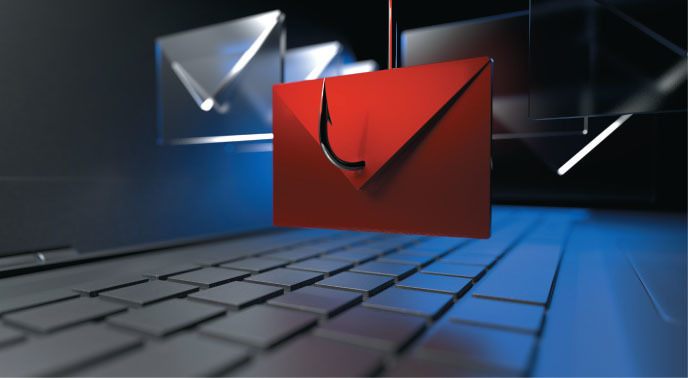 The Importance of Cyber Risk Management
To reel in the exposure to phishing attacks, a business should create a healthy cybersecurity culture spearheaded by the C-Suite that involves employee awareness and training and the implementation of offensive and defensive tactics. In addition, a robust cyber risk management program is required—one with both loss control/prevention measures to help mitigate exposures and insurance coverages to respond in the event of an incident.
TIA Members have access to Cyber Advantage Coverage, an exclusive cyber and insurance risk management program through Roanoke. This integrated solutions program offers cyber risk training and support to help businesses mitigate risks. You will also gain access to Roanoke's Logistics Cyber Suite, which includes coverage for many costs, such as data loss and restoration; data incident response, including notification expenses, crisis management and public relations, forensic fees, and legal expenses; third-party liability; loss of income as a result of the attack; extortion and ransomware payments; and payments for fraudulent wire transfers. Also included in the Roanoke program are loss-prevention tools, deep cyber data resources, and cyber recovery expertise provided by cyber risk management partner eRiskHub.
For additional information on this program—or any of our TIA Advantage Programs—please contact [email protected] or please visit tianet.org.
Glenn Patton is Managing Director for Roanoke Insurance Group, a Munich Re company, a specialty insurance broker focused on surety and insurance solutions for logistics service providers, customs brokers and companies managing supply chains. Patton is tasked with increasing global business opportunities across all product lines for Roanoke. His primary goal is to partner with Roanoke's customers and stakeholders to ensure appropriate alignment of risk management strategies and exposures. His technical expertise is concentrated in Cargo Insurance, Errors & Omissions, Cyber, Property/Casualty and Bonds.
Reference
1 Data Insights Additional Sources: Department of Homeland Security, Kaspersky, Terra Nova Security
Image credits: ISTOCK.COM/ TERO VESALAINEN, ISTOCK.COM/JUST_SUPER