Chris Burroughs | TRANSPORTATION INTERMEDIARIES ASSOCIATION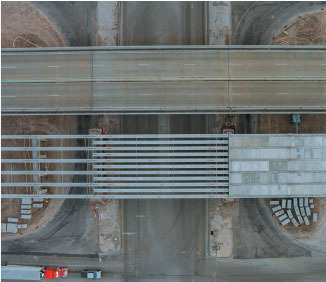 ON MARCH 31, President Joe Biden released his long-awaited plan to address infrastructure improvements. The wide-ranging definition of infrastructure is front and center for the administration as its approach to infrastructure is expected to be sweeping and impactful across all communities, especially those that have been disenfranchised.
The transportation priorities for the new administration range from traditional highway improvement plans to supporting traditionally underserved communities and ensuring projects have a green light before being funded or breaking ground.
TIA supports going "big and bold" but also supports going smart. We need to ensure that along with injecting billions, if not trillions, into the transportation sector we are changing the underlying laws that allow us as a country to move forward with a stronger, smarter and more resilient supply chain. TIA Members inherently ensure that the industry is reducing our sector's carbon emissions. We work closely with EPA's SmartWay program to ensure that we are a partner and an ally in our shared goal of an effective, efficient supply chain.
President Biden's plan calls for the modernization of "20,000 miles of highways, roads, and main-streets. It will fix the 10 most economically significant bridges in the country in need of reconstruction. It also will repair the worst 10,000 smaller bridges, providing critical linkages to communities." Our members want and need our nation's roads repairs and our bridges and tunnels fixed. This has direct implications on freight and the supply chain. According to the Infrastructure Scorecard, a product of the American Society of Civil Engineers "If this investment gap is not addressed throughout the nation's infrastructure sectors by 2025, the economy is expected to lose almost $4 trillion in GDP, resulting in a loss of 2.5 million jobs in 2025."
The President's plan calls for more than $621 billion in transportation and infrastructure resiliency. Part of this money goes to states and localities for repair projects. The White House goes on to say, "The President is proposing a total increase of $115 billion to modernize the bridges, highways, roads, and main streets that are in most critical need of repair."
President Biden and the new administration want to focus heavily on electric vehicles, as the United States falls behind other countries in terms of modernizing its fleet of vehicles used for support and governing across the country. The President wants 500,000 electric vehicles by the year 2030.
President Biden's plan calls for expanding past a traditional definition of infrastructure and support the retrofitting of schools, buildings and hospitals. This will be a further move toward an environmentally friendly community.
The President goes into a variety of issues he wishes to address in a more comprehensive bill. Some of these topics are:
Ensure drinking water is clean and available in every corner of the country, a revamped and sufficient electric grid, and high-speed broadband to all Americans;
Revitalize our economy with manufacturing jobs and ensuring companies keep their jobs in the U.S.; and
Ensuring a safe and stable workplace with the option to join a union.
TIA will continue to monitor the President's remarks as it relates to transportation. Our advocacy efforts will continue to be focused on Congress as there is the usual discrepancy between what the President releases as a road map and what he or she will sign into law. One thing is for sure, TIA supports the passage of a multi-year transportation reauthorization bill that fixes our crumbling infrastructure and ensures the supply chain can continue to operate efficiently and effectively.
Chris Burroughs is the VP of Government Affairs at TIA. He can be reached at [email protected].
Image credit: ISTOCK.COM/PHOTOVS