New Brokers Often Ask, "What Is TIA Watchdog?"
Wendy Emerson | Transportation Intermediaries Association
AT ITS CORE, TIA Watchdog is "'Yelp' but for problematic companies," noted Katie Henderson, TIA Sales Manager. Launched in 2005, TIA Watchdog is an interactive fraud prevention platform available exclusively to TIA Members, helping to strengthen the carrier vetting process.
The collaborative nature of the TIA Watchdog platform ensures a comprehensive report of a carrier's day-to-day operations as well as a deeper dive into a carrier's work ethic and integrity. It pro-vides TIA Members with a forum to report incidents of service failures and share their experiences among fellow members.
While most members know what TIA Watchdog is, they may not know how it works and how to take advantage of this powerful tool to strengthen their carrier vetting process. This article discusses three components of TIA Watchdog: who benefits, types of reports available, and the true value of TIA Watchdog when fully utilized by members.
Who Uses TIA Watchdog?
TIA Watchdog is used by more than 73% of TIA Member brokers, with a need for information that is more critical than ever in today's landscape. Quick access to information can be crucial when vet-ting carriers and quoting a load. Broker and long-standing member C.L Services said, "TIA Watchdog is part of our daily vetting process," and has integrated TIA Watchdog access for their staff. TIA currently has four associate and public integration options in which TIA Watchdog is available to members through a pay-for-service platform. With more than 1,400 active integrated accounts that support our brokers and their staff, integration access increased nearly 10% from 2019. TIA Watchdog continues to support many TIA Members' vetting processes with growth that can be seen below. Here is TIA Watchdog activity for the month of December for years 2019 & 2020.

With nearly 700 TIA Watchdog Reports submitted in 2020 and almost 325,000 searches logged, TIA Watchdog continues to provide a platform for members to share information that helps others avoid encountering the same issues with the same businesses.
What Type of TIA Watchdog Reports Are Available?
The desire to share this information on a central platform is provided through three distinct reports: TIA Watchdog, Agent, and Fraud. All three capture a specific set of infractions that are archived for up to 24 months; longer if more than one report is on record. These reports are widely recognized in the transportation industry.
While there are tools to help mitigate cyberattacks, the challenging, technical, and complex carrier vetting process remains. Carrier vetting, with daily and regular due diligence to confirm requirements such as insurance, contracts, licenses, authority, geographic reach, and types of service, is reportable and can often be captured through integrated systems and data pulls, but it often fails to report on work ethic, integrity or fraud. This is where TIA Members—through TIA Watchdog—share information on nefarious acts that help complete the process.
TIA Watchdog specifically reports on fraudulent acts that are indicative of the carrier's operations, such as no shows, cancellations, and rebrokering. The Agent Report captures acts of an individual or agent on inflating margins, credit terms violations, providing false documents, booking false loads, and failure to perform on agreed loan or advancement. A Fraud Report captures more serious acts such as stolen trucks, stolen identity, falsified Proof of Delivery (POD) or Bill of Lading (BOL), cash advance scams, missing driver, and stolen goods.
The chart on your right lists the Reported TIA Watchdog Infractions from 2019 & 2020 showing areas of increased and dropped activity or reported incidences.
In addition to nearly 80% of members' direct usage of TIA Watchdog, 35% support their staff with TIA Watchdog integration to an existing TMS or business operations platform creating a streamlined approach.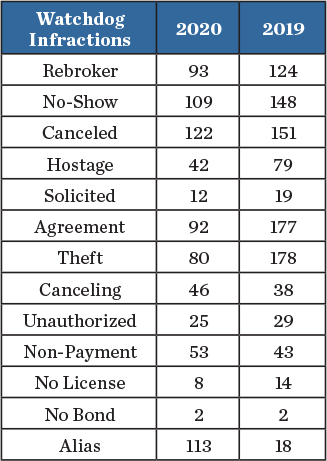 During an October 2020 webinar hosted by TIA Services, Glenn Patton, VP of Business Development at Roanoke said, "The«logistics«industry is«one of the top five«targeted industries by cybercriminals, and some analysts have the trucking industry as the second-most targeted industry."
A good example of how cybercrime can infiltrate our industry could be the increase of "Alias" being reported. Information that is used to pose and operate under another's identity increased substantially in 2020 causing thousands in claims and unexpected loss. But do not let your guard down, "Cancellations" and "No-Show" are still a costly occurrence where late fees, additional warehousing costs, unexpected relabeling charges, manpower, and the unknown of potential loss of future business and a tarnished reputation can be crippling.
The Value of TIA Watchdog
Continued TIA Watchdog support, and TIA Members' increased knowledge and applied business standards help bring awareness to industry trends and fraudulent activity, and support the additional resources TIA makes available through frameworks, webinars, discounted program offerings and educational courses.
The value of TIA Watchdog is knowing that it has proprietary member-only access with a process that requires an indemnification on record to submit a report. Member users are expected to uphold TIA standards and understand that a submitted TIA Watchdog Report is not intended to be used to damage, injure, disparage, or harass in any way another person or entity. Those who do not adhere to these expectations risk a TIA Ethic Committee review and revoked membership. The TIA Watchdog reporting process also includes an automatic notification to the carrier when a report is submitted, along with an opportunity for the carrier to respond accordingly. TIA always encourages both parties to reach reasonable solutions and potentially avoid a submitted report whenever possible. Having member integrity behind TIA Watchdog creates a shared value that our members support and from which they benefit.
We are dedicated to maximizing the value of TIA Watchdog by improving and expanding the reach of this valuable resource through continued integration opportunities that support TIA members, attract more integrators, and develop new relationships with major players in the industry. We are embracing the opportunity to continue to improve TIA Watchdog's functionality to the platform and to provide more value to TIA member users.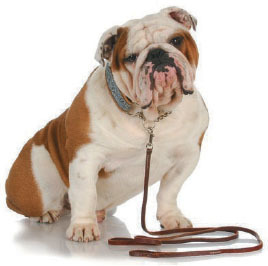 Wendy Emerson is the Affinity Program Manager at TIA. She can be reached at [email protected] or by phone at (703) 209-0143.