Martha J. Payne | BENESCH, FRIEDLANDER, COPLAN & ARONOFF LLP
STATUTORY LAW DOES not make a broker—in their role of arranging transportation by motor carrier1 liable for cargo loss, damage or delay. A surface freight forwarder, also arranging transportation by motor carrier, but performing assembly or consolidation services.2 is liable as a carrier.3 Intermodal Marketing Companies (IMCs) arrange shipments by rail and have no liability for cargo loss, damage or delay. Indirect Air Carriers (IACs) arrange transportation by air and are liable for cargo loss, damage, and delay as if they were the actual air carrier. For ocean transportation, there are Ocean Freight Forwarders (OFFs) who historically have no liability and Non-Vessel Operating Common Carriers (NVOCCs) who are liable as ocean carriers.
All of the above are examples of third-party transportation intermediaries (3PLs). When contracting with your customers, it is important to know which type of 3PL you are, and which mode of transportation will be provided by the service providers with whom you contract.
Conventional wisdom advises 3PLs to enter into contracts with service providers that mirror their contracts with their customers. Doing so protects the 3PL; it can either refer the customer directly to the service provider for recovery of cargo claims (preferable), or it can pay the customer and recover from the service provider (more likely).
Although in theory, mirroring contracts will protect a 3PL, there are a few caveats. First, there should be carefully drafted and negotiated contracts between the 3PL and its customers and between the 3PL and the service providers. Second, no matter what a 3PL holds itself out to be, a court may find differently. And third, if the service provider does not have insurance that will pay for the cargo loss, damage or delay, recovering through subrogation may not be feasible.
To understand the differences between legal liabilities for the various modes of transportation, let's look at each one.
Broker: Legally, if a 3PL is a broker, it has no statutory liability for claims for cargo loss, damage or delay. Contractually, it may assume such liability, but before doing so, it should confirm with its insurance carrier that it is covered for contractually assumed liability.
Brokers may be held liable by the courts if the court determines that the broker acted as a motor carrier.4 Even without a contract, customers will most often attempt to hold the 3PL responsible.
WHEN CONTRACTING WITH YOUR CUSTOMERS, IT IS IMPORTANT TO KNOW WHICH TYPE OF 3PL YOU ARE, AND WHICH MODE OF TRANSPORTATION WILL BE PROVIDED BY THE SERVICE PROVIDERS WITH WHOM YOU CONTRACT.
The ability of brokers to pass liability on to service providers, or to recover from them, depends on the legal identity of the service provider.
Motor Carriers: Liability of motor carriers for cargo loss and damage is governed by the Carmack Amendment (Carmack) to the Interstate Commerce Act.5 The liability imposed is for the full, actual loss or injury to the items, but a motor carrier may establish rates for the transportation of property (other than household goods) under which the liability of the carrier for such property is limited to a value established by written or electronic declaration of the shipper, or by written agreement between the carrier and shipper if that value would be reasonable under the circumstances surrounding the transportation.6 Essentially, all motor carriers limit their liability either contractually or by publishing terms and conditions on their websites. Although limitations of liability should be mutually agreed to, carriers impose limitations without actual agreement of the shipper or a 3PL, and courts routinely uphold such limitations. It is important to know in advance the limitation of liability the carrier will impose. While a customer may hold a 3PL to full value, the carriers' limitations may create a gap which will be expensive to fill.
Time limits for filing claims and lawsuits regarding cargo against motor carriers are not set by statute, but there are minimum timeframes carriers are allowed to impose.7 Virtually all carriers impose those time limits: nine months from the date of delivery or expected delivery to file a claim and two years (and one day) from the date a claim denied to file suit. If a carrier is holding you to these time limits, there is the possibility you will receive a claim or a suit from the owner of the goods or their insurer within these time limits but too late to file against the carrier.
Rail Carriers
Rail carriers are governed by Carmack, which for rail is codified in 49 USC §11706. Claims against rail carriers are handled very similarly to those against motor carriers, but rail carriers publish circulars that govern most rail transportation. To comply with Carmack requirements, rail circulars provide two levels of cargo liability—Carmack and another, sometimes referred to as "standard." If a shipper or 3PL does not specify Carmack and agrees to pay a higher rate, "standard" liability with lower limitations applies. There are other terms and conditions in rail circulars that should be reviewed, covering shippers' obligations and loading of equipment moving by rail, which should be reviewed.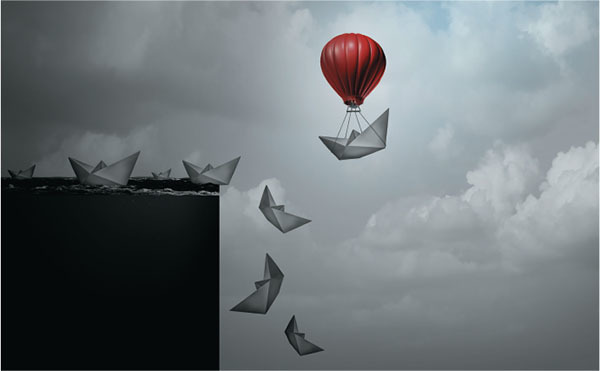 Air Carriers
Tender of goods to air carriers is exempt from FMCSA regulation,8 so Carmack liability does not apply. However, if a 3PL engages indirectly in air transportation, it is an IAC subject to requirements of the Department of Homeland Security. This is a major undertaking. It is more likely that a non-IAC 3PL will tender freight to another 3PL (an IAC) that will then tender it to an air carrier.
Domestic Air
There are no specific requirements governing liability of domestic air carriers for cargo loss, damage or delay. Liability is governed by contract, which often is simply the air waybill. A common standard in a domestic air waybill is $0.50 per pound based on the weight of the shipment or $50.00 per shipment, whichever is higher. This very low limit of liability will be a major problem if a 3PL has contracted with its customer based on Carmack assumptions.
International Air
If a shipment is moving internationally by air, the Montreal Convention most likely applies. It governs all international carriage of persons, baggage, or cargo performed by aircraft for reward between or within more than 90 countries, including the United States, European Union, Australia, Canada, China, Japan and Mexico. The limitation of liability pursuant to the Montreal Convention for cargo lost or damaged during international air transportation is 22 Special Drawing Rights (SDRs) per kilogram, based on the weight of the package lost or damaged. The value of an SDR is approximately $1.38, resulting in a limitation of liability of approximately $30 per kilogram.
IACs almost always use air waybills that comply with the Conditions of Contract promulgated by the International Air Transport Association's (IATA) Cargo Services Conference. In each such air waybill is the provision: "For carriage to which the Montreal Convention does not apply, Carrier's liability limitation for cargo lost, damaged or delayed shall be 22 SDRs per kilogram unless a greater per kilogram monetary limit is provided in an applicable Convention or in Carrier's tariffs or general conditions of carriage." Thus the Montreal Convention limitation of 22 SDRs per kilogram generally will apply to all shipments, whether the shipments are between participating countries or not.
The carrier is liable for loss or damage to the cargo if the loss or damage took place during the carriage by air. Carrier defenses to liability are "(a) inherent defect, quality or vice of that cargo; (b) defective packing of that cargo performed by a person other than the carrier or its servants or agents; (c) an act of war or an armed conflict; (d) an act of public authority carried out in connection with the entry, exit or transit of the cargo." The carrier is exonerated in whole or in part if it can prove the damage was caused or contributed to by the claimant.
The limitation of liability applies unless the consignor has made, at the time when the package was handed over to the carrier, a special declaration and paid a supplementary sum if the case so requires. In that case, the carrier will be liable to pay a sum not exceeding the declared sum, unless it proves that the sum is greater than the consignor's actual interest in delivery at destination.
Complaints must be filed in writing and sent to the carrier within the following time limits; in the case of damage, the person entitled to delivery must complain to the carrier within 14 days of receipt; in the case of delay, the complaint must be made within 21 days from the date the cargo is delivered.
Any legal action must be brought within two years from the date of arrival at destination, or from the date on which the aircraft ought to have arrived, or from the date on which the carriage stopped.
Ocean Carriers
Indirect transportation by water can be pursuant to an OFF and NVOCC license issued by the Federal Maritime Commission (FMC).
Liability for most international water transportation is governed by the Carriage of Goods by Sea Act (COGSA).9 As with Carmack, liability is for the actual loss or damage to the cargo. The major difference is that liability is limited to $500 per package or customary freight unit unless the shipper declares the nature and value of the goods and inserts what is listed on the bill of lading. Notice of claims must be filed within three days of delivery. Lawsuits must be filed within one year of the date of delivery. A provision in standard ocean bills of lading, referred to as a Himalaya Clause, extends the limitations of liability to all carriers involved. So if a 3PL engages a motor carrier to perform transportation services prior or subsequent to an ocean move, the motor carrier may be able to limit its liability to $500 per package, pursuant to COGSA. If a 3PL is liable to its customer for full value or to higher limitations of liability presumed by Carmack, there may be a major gap between what it must pay and what it can recover.
Warehouse Liability
Warehouse liability is governed by State law. 10 Although warehouseman are liable for full actual harm, they are allowed to limit liability contractually. This occurs routinely. In addition, warehousemen are not liable unless there is evidence of negligence. This differs considerably from Carmack, in that the duty of care is only what a reasonably careful person would exercise under similar circumstances. The time limits for filing claims and suits are also negotiable but is often as short as 60 days for claims and nine months for suits.
As you can see, it is of utmost importance to know your own legal liability and that of the service providers. Careful contracting is critical.
Otherwise, you are likely to find yourselves "Stuck in the Middle" between your customers and service providers.
Martha J. Payne is Of Counsel with Benesch, Friedlander, Coplan & Aronoff LLP. She can be reached at [email protected].
References

149 USC 13102(2)
249 USC 13102(8)
349 USC 13102(3)
4Mecca & Sons Trucking Corp v. White Arrow LLC No. 17-3121 (3d Cir. 2019); Tryg Insurance v. CH Robinson Worldwide Inc, No. 17-3768 (3d Cir. 2019)
549 USC 14706 No. 17-3121 (3d Cir. 2019)
649 USC 14706(c)
749 USC 14706(d)(e)
849 USC 13506(a0(8)
946 USC Section 30701
10Uniform Commercial Code Section 7-204