Everything You Need to Know About the Industry's Most Misunderstood Requirement
Bobbie Prosser | LOGISTEC/TTS RESIDENT AGENTS SERVICE, INC.
FREIGHT BROKERS, LIKE other transportation companies, are inundated with a confusing alphabet soup of transportation requirements—MC, DOT, UCR, BOC-3, just to name a few. In the rush of day-to-day business and keeping up with state, federal and local regulations, you might not pay attention to what's GOING on behind all this industry jargon, or what it means for you. For this article, we're going to focus on the BOC-3 and how it impacts your brokerage.
Building Blocks
Let's start with the three major players in transportation: motor carriers, freight brokers, and domestic freight forwarders. What they all have in common is that they must obtain a Motor Carrier (MC) Number with the Federal Motor Carrier Safety Administration (FMCSA) if they intend to transport freight across state lines (aka interstate commerce). The process of getting your MC number is called getting your Operating Authority, which enables you to operate legally. Companies operating without authority, or beyond the scope of their authority, can be put out of service by FMCSA and can be subject to substantial fines and penalties. To get your Operating Authority, freight brokers need just two things: proof of surety bond or trust and a process service, which is the BOC-3 we mentioned above.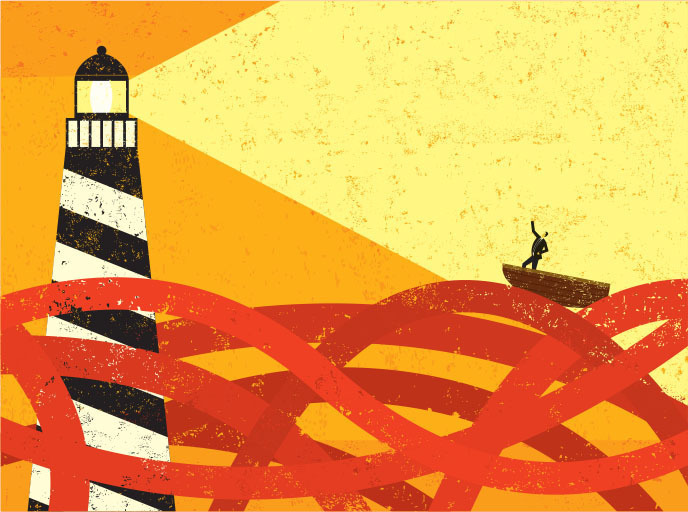 What Is the BOC-3?
The BOC-3 is probably the most misunderstood and underappreciated requirement. Let's start with what BOC stands for: Blanket of Coverage. The BOC-3 filing tells FMCSA who a broker has designated as their registered process agent in each state in which the broker does business.
For example, a freight broker who arranges freight in Texas and New York is legally required to inform FMCSA who their representative is in each of these two states. The BOC-3 is the form that fulfills that requirement and designates ALL of your company's process agents.
What Is a Process Agent?
A process agent is a responsible, thirdparty who is located in the same state in which you are arranging transport or hold a contract, and who is designated to be served legal documents in any proceeding brought against you should there ever be a legal issue. These can range from cargo damage disputes that go beyond your insurance limitations to non-payment claims, stolen identity issues and more.
Their main function is to receive and forward the documents to you or the appropriate person at your company, so you can prepare a proper, timely response before a judgement is levied against you. They receive service of process notices, correspondence from FMCSA, and other official government notifications, usually tax forms and notice of lawsuits, on your behalf.
Why Are Process Agents Important?
Process agents act as a key link between the public, the government, and your company. State officials need to have a registered contact person for your business in their state if you don't have a physical location there. In addition, FMCSA represents the public interest, and your process agent gives them a way to find you/your representative in each state.
For example, a broker based in South Carolina most likely won't have a physical office in California. However, if a legal matter arises in California, the California process agent can accept and forward tax and legal documents to the South Carolina broker, making sure they don't miss important information regarding tax payments, lawsuits, or judgments involving their business.
Don't Call It a BOC-3
Using the initials just makes it seem more mysterious, when it really isn't. After all, you don't call your liability insurance a BMC-91, right? You think of it as insurance, and you choose an agent based on factors such as policies offered, coverage limits and reputation.
Similarly, think of the BOC-3 as a Process Service. It's an important service that designates your company's legal representative and that can save your business should a legal issue arise outside of your base state. Having a process agent who does not do the job properly, who isn't in the office when the process server shows up, or who loses or mishandles documents can cost you significant money in judgements and/or attorney's fees involved in fighting the defaults.
When you're working in multiple states, having multiple agents for your process service gets cumbersome. That's why there are Process Service Agencies.
What Is a Process Service Agency?
A Process Service Agency manages your designated process agents in all states, giving you one point of contact for all your agents no matter how many states you do business in. And it's vital that they act with your company's best interests at heart.
Some brokers handle their own process service filing, but it's a time-consuming and complex process that has to be updated annually. If your process service filing is incomplete or has errors, your operating authority application can be rejected, you have to start over, and your operating authority could be in jeopardy. While it is usually legally possible for transportation companies to choose their own process agents and keep up with the filings, most designate a third-party process service agency to perform this important role. Process Service Agencies can take care of all the elements of your BOC-3 filing, ensuring it's done right, saving the broker time, money and headache.
More importantly, by having a process service agency responsible for the receipt of tax and legal documents, you gain peace of mind knowing that someone will be available to claim important documentation. That leaves you free to focus on other important business without having to worry about complying with the state's Registered Agent requirement.
Importance of a Reputable Process Service Agency
There are two main types of process service companies: the first being bare bones, a one-time filing of just the BOC-3 and nothing more. Other full-service companies offer additional services, such as transportation consulting, USDOT updates, FMCSA Compliance assistance, CSA reports, registration reminders, industry reminders, and driver qualification templates.
Here's a common situation we see: A broker changes their address and updates their DOT record, but they forget to update FMCSA. Then they're named in a lawsuit.
YOU THINK OF IT AS INSURANCE, AND YOU CHOOSE AN AGENT BASED ON FACTORS SUCH AS POLICIES OFFERED, COVERAGE LIMITS AND REPUTATION.
The one time-filing agent forwards the documentation to the last address on file with your process service (BOC-3), which is the wrong one, and makes no extra effort to find you. Your documents are lost or returned to sender. The reputable process service agency, on the other hand, has been in regular communication with you, knows your business, knows you moved, and has updated your filing with FMCSA. In this case, you receive important documentation in a timely manner.
In addition, reputable agencies will manage your process agents throughout the year, updating your process service filing as agents change companies, leave the business, change phone numbers and more. That saves you from having to keep track of all your agents and modify records accordingly. They should be engaged with you, maintain open lines of communication and be in touch consistently. If you don't know how to reach your process agency, that's a red flag.
Unfortunately, there are several agencies who misrepresent themselves, sending misleading mailings that make you think they're with FMCSA or DOT. Before you hire one, it's important to look into what they offer and who they are. Ask yourself:
Are you dealing with the actual Process Service Agency or a third-party company that outsources BOC-3 filings?
How long have they been in business?
Do they have a reputation for being there when you need them?
Does your Process Service Agency provide contact information to you?
Do they offer true Blanket Coverage of process agents?
Do they update their process agents on a periodic basis?
Do they offer other services, or just the BOC-3 filing?
Do they encourage clients to contact them with questions?
If they offer an annual subscription, what's included?
Are there additional processing fees for served notices?
The quality and reputation of the process service agency you hire can make the difference between a trouble-free business and one that struggles to keep up with complex and changing regulation. After all, it's a service, not just a BOC-3, and you should expect intelligent, quality assistance.
Bobbie Prosser is the Sales & Operations Manager at Logistec/TTS, she can be reached at [email protected] Logistec/TTS Resident Agents Service, Inc. is a full-service licensing and permitting agency assisting motor carriers, freight brokers, and freight forwarders with all essential federal and state registration requirements. Logistec/TTS is the official BOC-3 process service filing company for TIA members. For more information log on to operatingauthority.com.
Image credits: ISTOCK.COM/ERJUI1979, ISTOCK.COM/RETROROCKET