Chris Burroughs | VP OF GOVERNMENT AFFAIRS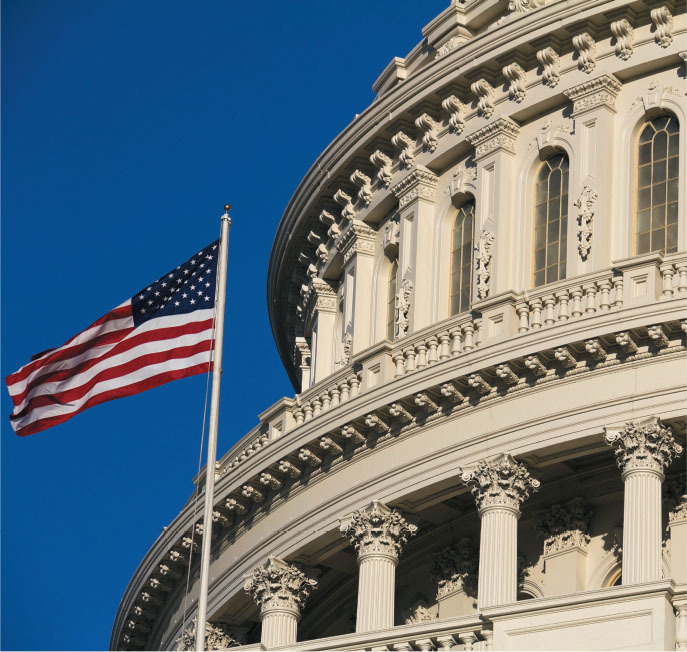 2020 WAS A year of twists and turns, which led to the free-fall of the economy. There were several key events that followed the World Health Organization's (WHO) declaration of the COVID-19 virus as a global pandemic. These included: a mad dash from almost every segment of the economy seeking to be classified as an "essential service," several COVID-19 related relief packages, Paycheck Protection Program forgivable loans, a radical proposal calling for increased broker transparency, and an explosion of support for TIA's top priority legislation. Here is what we saw take place in 2020:
On March 15, 2020, the entire country essentially came to a halt because of COVID-19. To be honest, there was a part of me that wondered how, as government affairs professionals, we would continue to advocate on behalf of our members while working remotely—rather than from within the halls of Congress. The uncertainty didn't last long, as we adapted quickly to meet our members' needs and began serving as an information clearinghouse and advocate for TIA Members on COVID-19 related issues.
We obviously know the important role that 3PLs play throughout the transportation supply-chain and the value they bring to the American economy, but we needed to ensure that those on the Hill knew this as well. In the beginning of the COVID-19 shutdown there was a mad rush from all segments of the American economy vying to be classified as "essential" in order to keep the lights on and continue to allow companies to bring employees into the office if necessary. TIA began outreach to Congressional offices, Agency officials and the Trump Administration to ensure that our members would be deemed essential businesses. We were successful in our efforts.
The next major undertaking was aggregating all the different state rules and regulations as they related to COVID-19 and providing our members with a central database to access the status of each's State emergency status. Most States were operating under the Federal Government's guidance, but several States had developed their own guidance, and we needed to ensure that our members' in those States had the relevant information, as this information was literally changing daily. The TIA staff worked tirelessly to develop a COVID-19 Response Center on the website with this information.
Next, we dealt with the extremely important Payroll Protection Program (PPP). As one U.S. Senator told us, "if we waited to get it right, we would still be working on it. We knew we had to get money to folks now without delay."
This Senator was exactly right, and for a lot of TIA Members, this PPP loan was the safety net that they needed to keep the lights on. With updates from the Administration on the key details of how the loans would work literally changing daily, we worked diligently to provide TIA Members with regular updates to make informed decisions for their businesses. While the PPP process was far from perfect, it was able to help a lot of our members.
As part of all these efforts, it naturally happened that engagement among TIA Members in the political process has steadily increased throughout the year. Following the move to remote working, we launched a large campaign of meeting with Members of Congress via Zoom on the value of 3PLs and the important role you all are playing in the American economy. We meet with dozens of Members of Congress and have had several TIA Members who previously were not active in our grassroots efforts participating. As a side note, this strategy and engagement has paid off greatly as we have worked to address the rate transparency issue. In addition to our day-to-day lobbying efforts, the ability to bring TIA Members into the legislative and political process assists TIA in our strategic long-term goals, and we look forward to carrying this momentum into 2021.
Fast forward a few months to the 2020 Virtual Policy Forum. We were obviously disappointed that we could not hold the annual event in Washington, D.C. and physically walk the halls of Congress to lobby on behalf of TIA and the 3PL industry. But we understood the reality that it wasn't going to happen in 2020 because of COVID-19. Overall, the event was a huge success and featured more than 130 TIA Members who met virtually with more than 100 Members of Congress. We heard from several TIA Members about how impactful the event was and the great momentum that TIA is gaining on our top legislative priority, the Motor Carrier Safety Selection Standard. We continue to build upon the success of 2020, in terms of the Motor Carrier Safety Selection Standard and building more bi-partisan support.
TIA's Government Affairs department looks to continue to build upon the successes of the Policy Forum and the grassroots efforts during COVID-19 to hit the ground running in 2021 when the 117th Congress is sworn into office. We have made huge strides over the years, from having to explain what a 3PL was and the role they play in the supply chain to Members of Congress and staff calling upon us for guidance and advice on transportation issues.
Chris Burroughs is Vice President of Government Affairs with TIA. He can be reached at [email protected].
Image credit: MDGN/SHUTTERSTOCK.COM